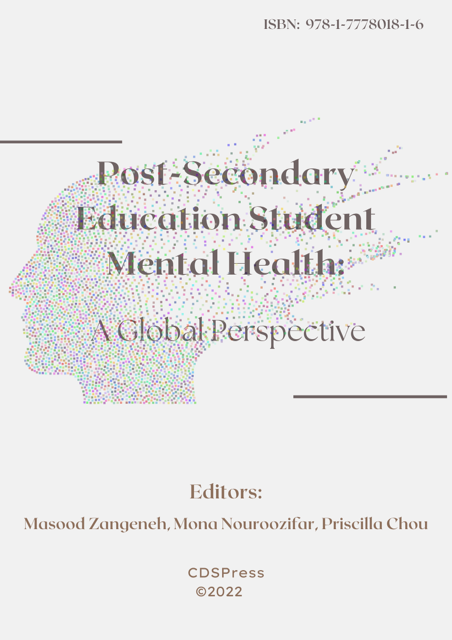 Editor: Masood Zangeneh, Ph.D.
Affiliation: Humber College Institute of Technology and Advanced Learning, Canada
Editor: Mona Nouroozifar, Ph.D.
Affiliation: Conestoga College Institute of Technology and Advanced Learning, Canada
Editor: Priscilla Chou, BASc.
Affiliation: Journal of Concurrent Disorders, Canada
---
TABLE OF CONTENTS
FRONT MATTER
Pages i-xv
---
THE FREQUENCY AND CORRELATES OF MENTAL HEALTH PROBLEMS AMONG KHALIJI
Authors: Samir Al-Adawi, Nasser Al-Sibani, Lara Al-Harthi, Maithili Shetty, Joe Valentina, Muna Al
Sadoon
Pages 1-50
---
MENTAL HEALTH IN PALESTINIAN UNIVERSITY STUDENTS: CHALLENGES, DIFFICULTIES, AND SOURCES OF RESILIENCE
Authors: Fayez Mahamid & Dana Bdier
Pages 51-68
---
LEARNING THROUGH LOSS: THE IMPACT OF STUDENT RETENTION FOR GRIEVING STUDENTS
Author: Amanda Howlett-Long
Pages 69-83
---
MADNESS, CHARACTER, OR PATHOLOGY: PERCEPTIONS OF MENTAL ILLNESS IN MEDICAL STUDENTS
Authors: Ingrid Vargas-Huicochea, Ana Carolina Rodríguez-Machain, Jacqueline Cortés Morelos, Nora
Kelsall
Pages: 94-117
---
PERFECTIONISM, SELF-ESTEEM AND AGGRESSIVENESS IN SOCIAL RELATIONSHIPS IN UNIVERSITY STUDENTS
Authors: M.C. Manzano Hidalgo, Abel Nogueira-López, Juan González-Hernández
Pages: 118- 131
---
USING MEANING-CENTERED APPROACH TO CULTIVATE COLLEGE MENTAL HEALTH
Authors: Gökmen Arslan, Murat Yıldırım
Pages: 132-146
---
EMOTIONAL INTELLIGENCE AND MENTAL HEALTH OF YOUNG ADULTS
Authors: Murat Yıldırım, Gökmen Arslan
Pages: 133-154
---
THE ASSOCIATION BETWEEN RELIGIOSITY AND LIFE SATISFACTION IN SIX ARAB COUNTRIES
Author: Ahmed M. Abdel-Khalek
Pages: 155-172
---
MENTAL HEALTH OF UNIVERSITY STUDENTS: PERSPECTIVES FROM JORDAN AND THE UNITED ARAB EMIRATES
Authors: Heyam F. Dalky, Yousef M. Aljawarneh, Lubna M. Rajab, Rabia H. Haddad
Pages: 172-186
---
THE IMPORTANCE OF SOCIAL CONNECTEDNESS FOR SELF-REGULATION AND EMOTIONAL WELLBEING: EXPANDING THE DEFINITION OF THE CONSTRUCT
Authors: Chris Lo, Andrew E. Nussey, Charles C. Helwig
Pages: 190-218
---
THE COVID-19 PANDEMIC'S IMPACT ON POST-SECONDARY STUDENT COUNSELLING SERVICES
Authors: Rosemary Vito, Joanna Bedggood, Tasha Anderson, Nina Kovacic, Emily Maini, Rick Csiernik
Pages: 219-250
---
THE IMPACT OF COVID-19 ON POSTSECONDARY STUDENTS
Author: Lily Y. Li
Pages: 251-276
---
HOW DID JAPANESE UNIVERSITY STUDENTS SURVIVE THE COVID-19 PANDEMIC?
Authors: Daichi Sugawara, Takahiro Kubo, Masashi Mizuno, Akihiro Masuyama
Pages: 277-294
---
COVID-19 IN CANADIAN COLLEGES: THE DRAWBACKS, ADVANTAGES, AND AREAS FOR IMPROVEMENT IN CRISIS-EVOLVED REMOTE LEARNING
Authors: Maria Lucia (Marylou) DiPlacito-DeRango
Pages: 295-329
---
MENTAL HEALTH ISSUES AMONG IRANIAN UNIVERSITY STUDENTS DURING COVID- 19 PANDEMIC
Author: Mahboubeh Dadfar
Pages: 330-351
---
POSITIVE AND NEGATIVE ASPECTS OF UNIVERSITY STUDENTS' EXPERIENCING THE COVID-19 PANDEMIC IN SLOVENIA
Authors: Alenka Polak & Polona Gradišek
Pages: 352-377
---
STUDENT ONLINE LEARNING EXPERIENCE AND ACADEMIC RESILIENCE DURING COVID-19: EXPLORING THE ROLE OF ACADEMIC SELF-EFFICACY AND PERCEIVED SOCIAL SUPPORT
Authors: Smita Singh, Jie Ying Loh, and Patrick K. F. Lin
Pages: 378-401
---
THE MEDIATING ROLES OF MALADAPTIVE GAMING COGNITIONS AND PURPOSE IN LIFE IN THE RELATIONSHIP BETWEEN RELATEDNESS NEED DISSATISFACTION AND INTERNET GAMING DISORDER AMONG CHINESE UNIVERSITY STUDENTS
Authors: Vivienne Y. K. TAO, Shu M. YU, Meng Xuan ZHANG, Anise M. S. WU
Pages: 402-422
---
ADDICTIVE BEHAVIOURS AND FAMILY RELATIONSHIP AMONG COLLEGE STUDENTS DURING THE PANDEMIC: A CROSS-SECTIONAL STUDY IN INDONESIA
Authors: Sujarwoto, Tri Yumarni, Rindi M. Saputri
Pages: 423-444
---
GENERALIZED INTERNET ADDICTION AMONG CHINESE UNIVERSITY STUDENTS: ASSOCIATIONS WITH INTERNET ATTITUDES, OBJECTIVELY MEASURED SMARTPHONE USAGE AND PERSONALITY
Authors: Zhihao Yan, Zeyang Yang
Pages: 445-461
---
LOST IN TRANSITIONS: A REVIEW OF STRESSORS AND MENTAL HEALTH AMONG INTERNATIONAL STUDENTS IN THE UNITED STATES
Authors: Katie K. Koo, Ariel Guicheng Tan
Pages: 462-490
---
THE LIVED EXPERIENCE OF HOW PUNJABI INTERNATIONAL STUDENTS NAVIGATE MENTAL HEALTH CONCERNS AT ONTARIO POST-SECONDARY INSTITUTES
Author: Bhupinder Singh Bains
Pages: 491-525
---
PHYSICAL ACTIVITY PROGRAMMING FOR POST-SECONDARY STUDENT MENTAL HEALTH: CONSIDERATIONS FOR RESEARCH AND PRACTICE
Authors: Melissa L. deJonge, Garcia Ashdown-Franks, Catherine M. Sabiston
Pages: 526-563
---
THE IMPROVEMENT EFFECT OF EXERCISE ON COLLEGE STUDENTS' INTERNET
ADDICTION
Authors: Weiyi Zhou, Han Zhao, Guoli Zhang
Pages: 564-593
---
WHAT ARE WE WAITING FOR? ADDRESSING WAIT TIMES IN POST-SECONDARY STUDENT
MENTAL HEALTH CARE
Authors: Sandra A. Yuen, Giovanni Arcuri, Peter Cornish, Donald W. Stewart
Pages: 594-623
---
MENTAL HEALTH ON CANADIAN POST-SECONDARY CAMPUSES: REVIEWING THE STATUS, THE IMPACT, AND A PROPOSAL TO HELP
Authors: Sara Antunes-Alves, John Meissner, Anamarie Gennara, Sandra Yuen, Andrea L. Howard, Larry
McCloskey
Pages: 624-665
---
STUDENT MENTAL HEALTH IN ASIA: BURDEN, HELP-SEEKING PATTERNS, AND
CULTURAL ASPECTS
Authors: Vikas Menon, Karthick Subramanian, Parthasarathy Ramamurthy
Pages: 666-708
---
A REVIEW OF MENTAL HEALTH IN HEALTHCARE STUDENTS: STRATEGIES AND
SUGGESTIONS
Authors: Yasuhiro Kotera, Laura Bennett-Viliardos, Charlotte-Fern Foster Phillips, Christopher Lloyd,
Greta Kaluzeviciute
Pages: 709-730
---
HEALTHY MINDS | HEALTHY CAMPUSES (HM | HC): PROMOTING MENTAL WELL-BEING
AMONG POSTSECONDARY INSTITUTIONS IN BRITISH COLUMBIA
Authors: Dan Reist, Tim Dyck, Bakht Anwar, Kamal Arora
Pages: 731- 761
---
THE MENTAL HEALTH OF INDIGENOUS STUDENTS IN CANADA AND BEYOND
Author: Shadi Beshai
Pages: 762-783
---
SUBJECT INDEX
Pages: 783-786
---